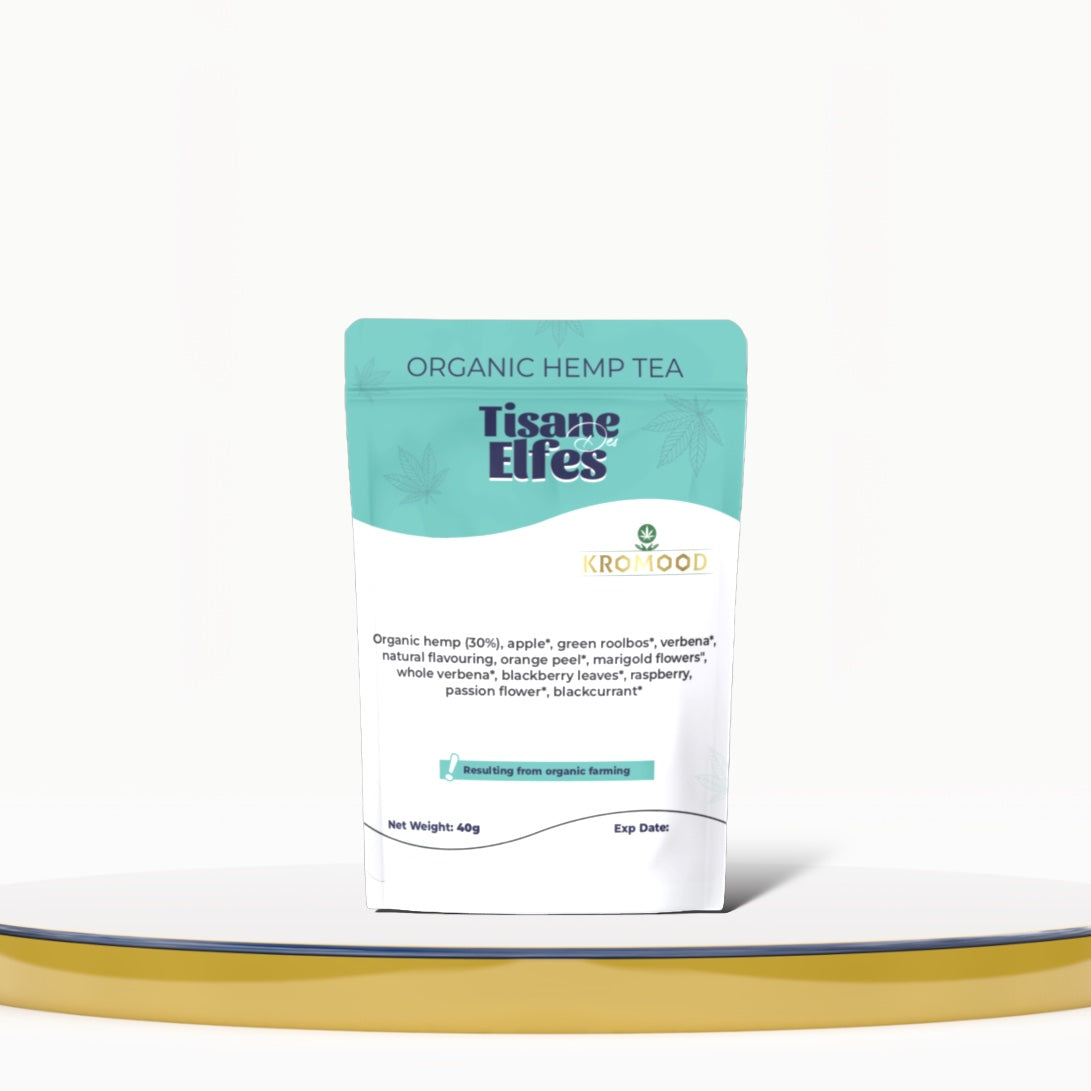 Organic Herbal Tea From Elves with Hemp - 40g - Kromood

Livraison discrete en 24/48h partout en Europe

Expédiée depuis notre dépôt de Vilvoorde (Belgique)
Paiement 100% securisé
---
Discover their Tisane Des Elfes au Hemp , an enchanting infusion that transports them to a magical world of flavors and well-being. With carefully selected ingredients from organic farming , KroMood offers a unique and natural taste experience.
This Des Elfes au Hemp herbal tea is composed of a harmonious blend of premium ingredients , creating a symphony of delicate and soothing flavors. Apple adds a fruity sweetness, while Green Rooibos brings light, herbaceous notes, providing a perfect base for this magical infusion.
Verbena , with its soothing properties, helps create a feeling of relaxation and well-being. The natural aroma , subtly incorporated, adds a touch of magic to the whole, transporting them to an enchanted forest.
Hemp, a naturally relaxing ingredient, perfectly complements this blend, promoting a feeling of calm and serenity . Orange peels add a refreshing citrus note, while marigold flowers provide a subtle floral touch.
Whole verbena and blackberry leaves add herbaceous and delicate nuances to the herbal tea, while raspberry offers a fruity and tangy note. Passionflower and blackcurrant complete this magical blend by adding relaxing aromas and subtle balance.
At KroMood , commitment to product quality is paramount. All the ingredients of their Tisane Des Elfes au Hemp come from environmentally friendly organic farming and are carefully chosen by their team of experts.
To prepare the infusion, it is recommended to infuse 1 to 2 teaspoons of this mixture in a cup of hot water for 5 to 7 minutes , in order to fully release the captivating aromas and natural benefits of each ingredient.
Here is the list of ingredients for their Tisane Des Elfes au Hemp :
Apple : Apple pieces adding a fruity sweetness to the brew, providing a delicious and refreshing flavor.
Green Rooibos : A type of unfermented Rooibos that brings light, herbaceous notes to the infusion, providing a balanced and calming base.
Verbena : A plant with soothing properties, which helps create a feeling of relaxation and well-being.
Natural Flavor : A natural flavor subtly incorporated, adding a touch of magic and enchantment to the brew.
Hemp : A naturally relaxing ingredient, which harmoniously complements other flavors and promotes a feeling of calm and serenity.
Orange Peel : Orange peel adds a refreshing citrus note to herbal tea, bringing a touch of brightness and liveliness.
Marigold Flowers : Marigold flowers, also known as calendula, add a subtle floral note and pop of color to the infusion.
Whole Verbena : Whole verbena, which intensifies the aromas and relaxing benefits of this soothing plant.
Blackberry Leaves : Blackberry leaves, offering a slightly herbaceous flavor and a delicate note to the infusion.
Raspberry : Pieces of raspberry, bringing a fruity and tangy note to the whole, adding a touch of freshness and liveliness.
Passionflower : Passionflower, a plant known for its relaxing properties, adding a calming sensation and subtle balance to herbal tea.
Blackcurrant : Pieces of blackcurrant, offering a sweet and fruity flavor, completing the whole with a deliciously sweet touch.
Immerse yourself in a magical world of flavors with their Tisane Des Elfes au Hemp . Let yourself be carried away by the delicate aromas, the relaxing benefits and the enchanted touch of this infusion. This is the perfect opportunity to treat yourself to a magical and soothing break, where the elves will watch over your well-being.