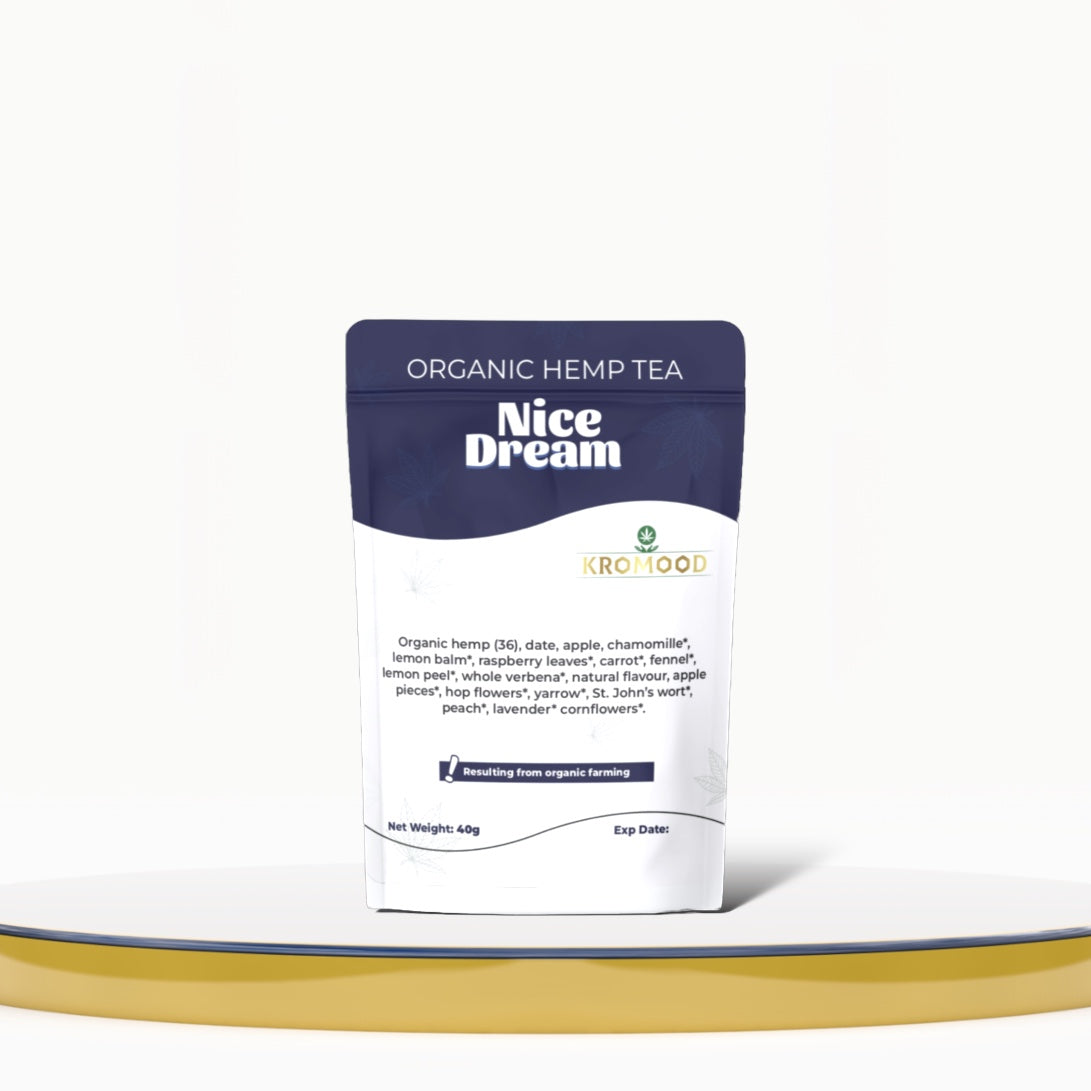 Organic Hemp Herbal Tea - Nice Dream - 40g - Kromood

Livraison discrete en 24/48h partout en Europe

Expédiée depuis notre dépôt de Vilvoorde (Belgique)
Paiement 100% securisé
---
Discover their 100% Organic Nice Dream Herbal Tea from KroMood , an invitation to relaxation and serenity. With a blend of carefully selected organically grown ingredients , their brand is committed to providing a calming and natural experience.
This relaxing herbal tea harmoniously combines a variety of ingredients carefully chosen for their soothing properties and delicate flavors . Each component helps create a gentle, comforting infusion that will help you relax and escape.
The date, combined with rice flour , provides natural sweetness and a pleasant texture, while the apple adds a fruity and slightly sweet note. Chamomile and lemon balm , herbs well known for their relaxing properties, bring a soothing touch to each cup.
Hemp, an ingredient with natural benefits , is included in this herbal tea to promote a feeling of calm and relaxation. Raspberry leaves, carrot and fennel add vegetal and sweet nuances to the whole, creating a subtle balance of flavors.
Lemon peels and whole verbena offer a touch of freshness and lightness to the herbal tea, while apple pieces add additional natural sweetness. Hop flowers, yarrow and St. John's wort , known for their relaxing properties, reinforce the soothing effect of this infusion.
For an even more harmonious experience, they added subtle notes of peach, lavender and cornflower flowers , creating a delicate and relaxing aromatic bouquet.
At KroMood , they are dedicated to bringing you organic products of exceptional quality . All the ingredients in their Nice Dream Herbal Tea are carefully selected and come from environmentally friendly organic farming.
To prepare your infusion, they recommend steeping 1 to 2 teaspoons of this mixture in a cup of hot water for a few minutes . Let the aromas be released and savor each sip, letting yourself be carried away by the tranquility of your moment of relaxation.
Here is the list of ingredients for their Nice Dream Herbal Tea :
Date (date, rice flour) : A natural sweetness combined with rice flour, adding a sweet note and pleasant texture to the herbal tea.
Apple : A delicious fruit that brings a fruity and slightly sweet flavor to the infusion.
Chamomile : A calming and relaxing herb known for its calming properties and promoting peaceful sleep.
Hemp : An ingredient with natural benefits that promotes rest and relaxation.
Lemon balm : An aromatic herb with calming properties, helping to relieve stress and promote relaxation.
Raspberry leaves : Leaves rich in antioxidants that add a sweet, vegetal nuance to herbal tea.
Carrot : A nutritious root that provides natural sweetness and health benefits.
Fennel : A plant with a slightly aniseed flavor that contributes to relaxation and digestion.
Lemon peels : Citrus peels that add a fresh, tangy note to herbal tea.
Whole verbena : A plant with relaxing and soothing properties, offering a sweet and fragrant infusion.
Natural Flavor : A natural flavor that harmoniously complements the other ingredients, adding a subtle touch to the infusion.
Apple Chunks : Apple chunks adding natural sweetness and extra fruity flavor.
Hop Flowers : Flowers with calming properties that promote relaxation and help relieve stress.
Yarrow : A plant with soothing benefits, contributing to a feeling of relaxation.
St. John's Wort : An herb traditionally used for its relaxing properties and emotional support.
Peach : A subtle note of peach adding a sweet, fruity flavor to the herbal tea.
Lavender : A flower with delicate aromas that promotes relaxation and well-being.
Cornflower Flowers : Aesthetically appealing flowers adding a subtle floral note to the whole.
Don't miss the opportunity to discover KroMood's 100% Organic Nice Dream Herbal Tea , the ideal choice for those looking for a relaxing and soothing infusion. Take advantage of this harmonious composition of organic ingredients to give yourself a well-deserved break and recharge your batteries in complete peace of mind.