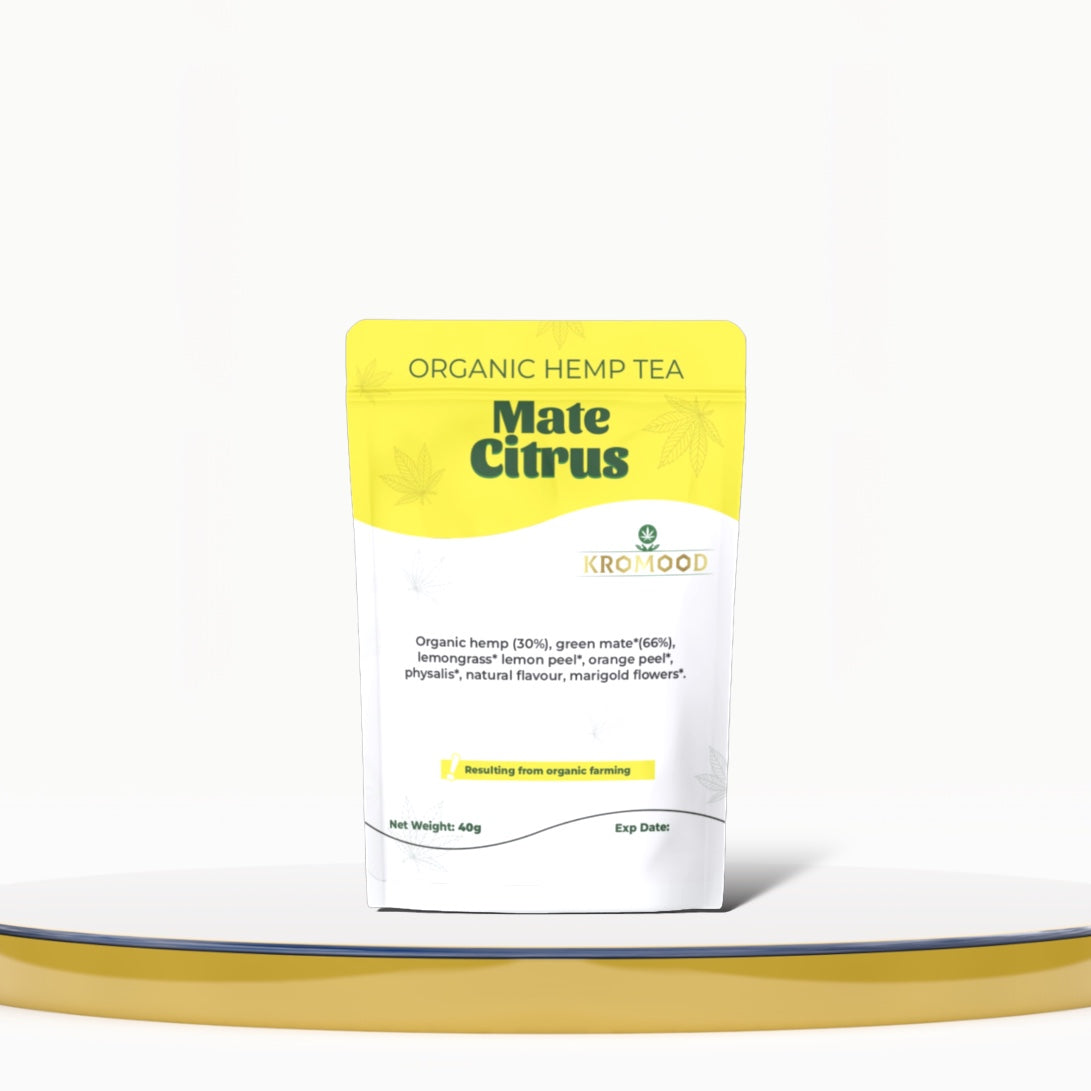 Organic Hemp Herbal Tea - Mate Citrus - 40g - Kromood

Livraison discrete en 24/48h partout en Europe

Expédiée depuis notre dépôt de Vilvoorde (Belgique)
Paiement 100% securisé
---
Discover the 100% Organic Mate Citrus Herbal Tea from KroMood , an exquisite blend of carefully selected ingredients, all from certified organic farming. The brand is committed to offering an exceptional tasting experience while preserving the purity and quality of each component.
This refreshing herbal tea harmoniously combines green mate, lemongrass, lemon peel, hemp, orange peel, physalis, marigold flowers and a natural aroma . Each ingredient has been chosen for its unique flavor and health benefits, creating the perfect balance of energy and relaxation.
Green mate, the main component of this herbal tea, is recognized for its stimulating properties and its ability to promote mental concentration . Lemongrass and lemon peel provide lemony freshness, while hemp offers a subtle, relaxing herbaceous note. Orange peel, physalis and marigold flowers add a fruity and floral touch, creating a most pleasant aromatic blend.
At KroMood , they pride themselves on offering premium quality organic products . Each of the ingredients in their Tisane Mate Citrus is grown without the use of pesticides, chemical fertilizers or harmful substances, guaranteeing a pure and natural infusion that respects your well-being and the environment.
To fully benefit from this invigorating herbal tea, they recommend steeping 1 to 2 teaspoons of their blend in a cup of hot water for 8 to 9 minutes . Let the aromas be released and the natural benefits reveal themselves, for a balanced and revitalizing tasting experience.
Here is the list of ingredients for their Tisane Mate Citrus :
Green mate (66%) : An energizing and revitalizing ingredient, from the leaves of a South American shrub. It provides a subtle and stimulating herbaceous flavor.
Lemongrass : An aromatic herb that adds a touch of lemony freshness to herbal tea. It contributes to relaxation and balance.
Lemon peels : Citrus peels that add a tangy and sparkling note to herbal tea, enhancing its freshness and lively character.
Hemp : An ingredient with multiple natural benefits. It provides a subtle and relaxing herbaceous flavor, promoting a feeling of calm and serenity.
Orange peels : Orange peels which bring a fruity and sunny note to the herbal tea, adding a subtle sweetness to the infusion.
Physalis : An exotic fruit with a slightly tangy taste, which offers a unique flavor to the herbal tea and adds an original dimension to the whole.
Natural Flavor : A natural flavor that harmoniously complements the other ingredients, creating a balanced and pleasant taste experience.
Marigold Flowers : Aesthetically appealing flowers that add a subtle floral note to the herbal tea, contributing to its delicate and refined character.
Don't miss the opportunity to discover KroMood's 100% Organic Mate Citrus Herbal Tea , the ideal choice for lovers of bold and natural flavors. Add this herbal tea to your daily routine and enjoy the benefits of a quality organic infusion, while supporting responsible and environmentally friendly organic farming.