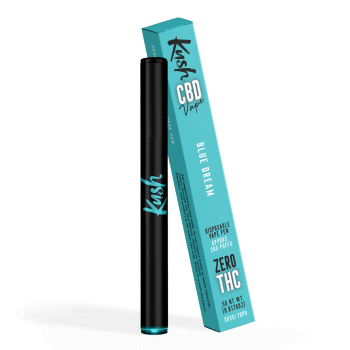 Kush Vape Pen 40% CBD - Blue Dream

Livraison discrete en 24/48h partout en Europe

Expédiée depuis notre dépôt de Vilvoorde (Belgique)
Paiement 100% securisé
---
40% (200mg) CBD - 0% THC
1 mg per puff - PG/VG: 70/30
The KUSH Vape CBD Blue Dream vape pen is an all-natural, ready-to-use disposable vaporizer made from hemp-based CBD isolate and CBD Blue Dream flower terpenes.
--
Find in this high-end disposable vaporizer KUSH Vape CBD Blue Dream, a sweet, herbal and piney taste of the classic CBD Blue Dream variety descending from the sweet and tangy Blueberry.
With a capacity of 0.5 ml, the KUSH Vape CBD Blue Dream vape pen is made from GMO-free hemp to which terpenes are added (the compounds naturally present in cannabis that give it flavor and smell). and other cannabinoids so you get a more flavorful and natural high.
Each Kush CBD Vape Pen can deliver between 100 and 200 "puffs" in total, depending on the size of the puffs.