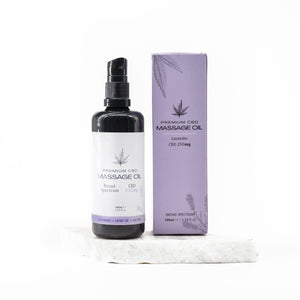 CBD Massage Oil (100ml) - Pure Extract CBD
€2800

€28,00
Tax included.
Shipping
calculated at checkout.
---

Livraison discrete en 24/48h partout en Europe

Expédiée depuis notre dépôt de Vilvoorde (Belgique)
Paiement 100% securisé
---
The massage allows you to relax and rest. CBD massage oil - Pure Extract accompanies you in your massage. Why use CBD Pure Extract Massage Oil? It is an oil with different relaxing properties. It allows you to benefit from many advantages resulting from the massage.
With CBD Pure Extract massage oil, moisturize your skin, soften it and relieve the various infections present on your skin. With a massage performed with CBD Pure Extract massage oil, relieve your skin in case of irritation or skin infection. This oil also helps to relax your muscles and relieve your various cramps.
The use of CBD Pure Extract massage oil also allows you to relax in order to sleep better, to improve your recovery after intense activities such as sports or other activities that require intense efforts. CBD oil is what you need to relieve all your body pains. After using it, you will feel fit and ready to go about other things.
Composition of CBD Pure Extract massage oil
The different relaxing properties that CBD oil has are given to it by its different constituents. It contains organic natural hemp extracts, almond oil, seed oil, grape oil and avocado oil rich in vitamin E. Its composition in CBD allows it to provide the different effects that often accompany this substance with cannabis. All of these components play a vital role in the well-being of Pure Extract CBD Oil users.
What to know about CBD
CBD is one of the substances contained in the cannabis plant. The latter also contains other substances such as THC, CBG, HHC (in small quantities), etc. CBD is therefore one of the main components of cannabis. It is present in large quantities in the plant. It is extracted from the plant and processed for consumption. CBD, to be consumed, comes in several forms. It can be the flower form of CBD, the oil form of CBD, the candy form CBD, etc. In any case, it provides many benefits to consumers.
Concretely, CBD allows you to fight against stress, anxiety. It also helps you have a sweet sleep, soothes pain, regardless of its origin. In its massage oil form, CBD therefore helps you deal with your various body or muscle pains. Thanks to a gentle massage with CBD Pure Extract oil, enjoy its various benefits for your well-being.
using advice
To use CBD Pure Extract Massage Oil, heat a small amount of this oil in the palm of your hand. Then proceed to a delicate massage of the different areas to be treated. When the massage is done well, you feel the effects of the operation. These include relaxation, relaxation, relaxation of the muscles...
Conservation
Keep away from light, humidity and heat.
---
We Also Recommend