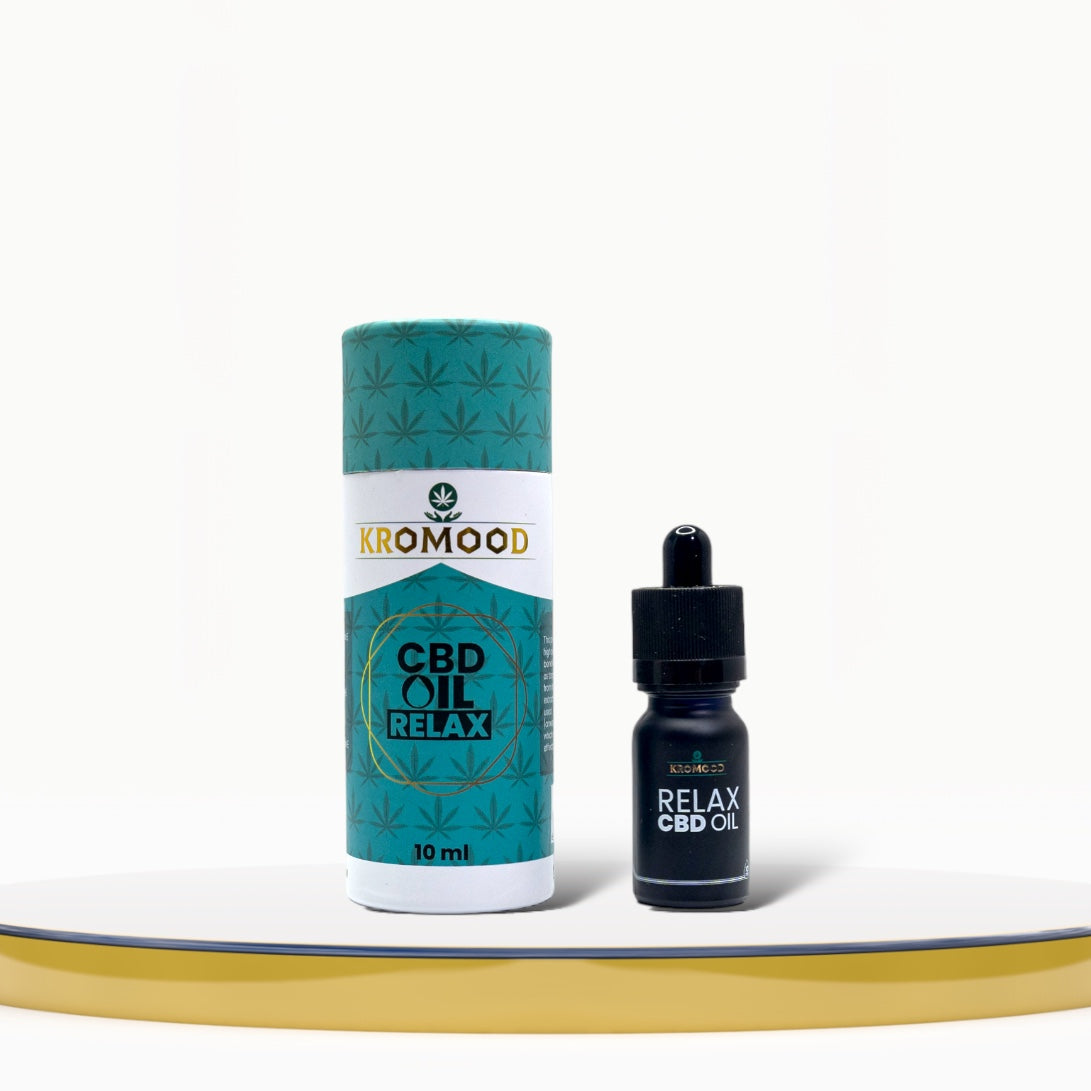 CBD oil - Relax - 10ml - 5% CBD / 3% CBDV - Kromood

Livraison discrete en 24/48h partout en Europe

Expédiée depuis notre dépôt de Vilvoorde (Belgique)
Paiement 100% securisé
---
Discover KroMood Relax CBD Oil - Soothe your Mind and Body
Immerse yourself in a state of deep relaxation thanks to KroMood Relax CBD Oil, a premium creation from the prestigious Dutch brand. In this exceptional 10 ml vial, discover a soothing blend of 5% CBD and 3% CBDV, carefully formulated to offer you a moment of unparalleled relaxation. Free your mind, soothe your body and embrace the tranquility of a more serene you.
The Harmony of Cannabinoids for Deep Soothing
At KroMood, their mission is to create products that explore the potential of natural components to care for overall well-being. CBD Relax Oil embodies this vision. Formulated with care and precision, it combines 5% CBD and 3% CBDV, two cannabinoids known for their soothing and relaxing potential.
Deep Relaxation Favored by Nature
CBD Relax Oil also benefits from the enrichment of natural terpenes from Lavender and Chamomile extracts. These components not only imbue the oil with delicious scents, but they also act as catalysts for relaxation. They create a synergy that can promote a state of deep and soothing relaxation.
The Essence of Serenity
Imagine being able to fully relax after a busy day. KroMood Relax CBD Oil aspires to deliver just that. Whether you want to soothe your mind before bed, find tranquility after a stressful day or simply relax, this oil can become your ally for some well-deserved relaxation.
Use and Satisfaction
KroMood Relax CBD Oil is designed for easy use. Thanks to its practical dropper, dosing the oil precisely is simple. A few drops under the tongue will allow you to savor the natural flavors as the oil dissolves. Let yourself be carried away by the soothing sensation as the carefully crafted blend begins to interact harmoniously with your body.
Journey to Serenity - Start Now
Integrate CBD Oil Relax into your daily routine and embark on a journey towards newfound tranquility. Soothe your mind, relax your body and welcome each moment with renewed serenity. Discover the excellence of Dutch craftsmanship, the power of cannabinoids and the harmony of natural synergy in every drop of KroMood Relax CBD Oil. Embrace the tranquility, embrace the calm – the KroMood way.
Information on KroMood Relax Oil :
Manufacturer : KroMood
Origin : Made in the Netherlands
Ingredients : Organic hemp, Lavender, Chamomile
Capacity : 10ml
Percentage of cannabinoids : 5% CBD and 3% CBDV
Synergy with Terpenes : This unique formula combines the soothing benefits of CBD and CBDV with the relaxing properties of natural Lavender and Chamomile terpenes, creating a synergy conducive to deep relaxation
Instructions for use : Use the dropper to easily measure the oil. Place a few drops under the tongue, wait a few moments for effective sublingual absorption, then swallow. You can also add it to drinks or foods for more discreet consumption
Potential Effects : KroMood Relax Oil may help promote relaxation, reduce stress and calm the mind thanks to the presence of natural cannabinoids and terpenes
ORGANIC Hemp : Made from carefully cultivated organic hemp, this oil guarantees optimal purity and is free from synthetic pesticides and herbicides
Superior Quality : The manufacturing of this oil is carried out according to rigorous standards to guarantee maximum quality and effectiveness
No Psychoactive Effects : In accordance with legislation, this oil contains negligible levels of THC, meaning it has no unwanted psychoactive effects