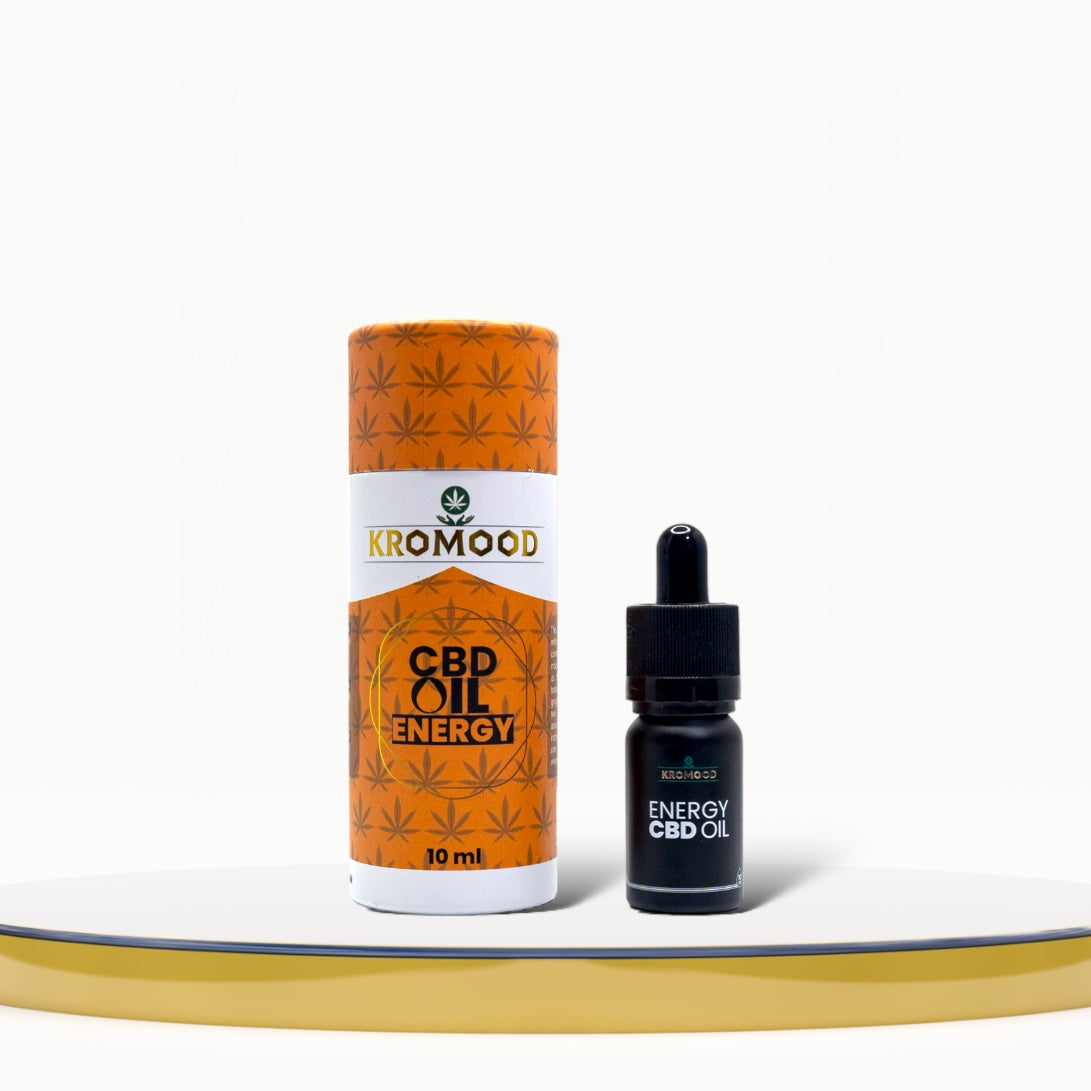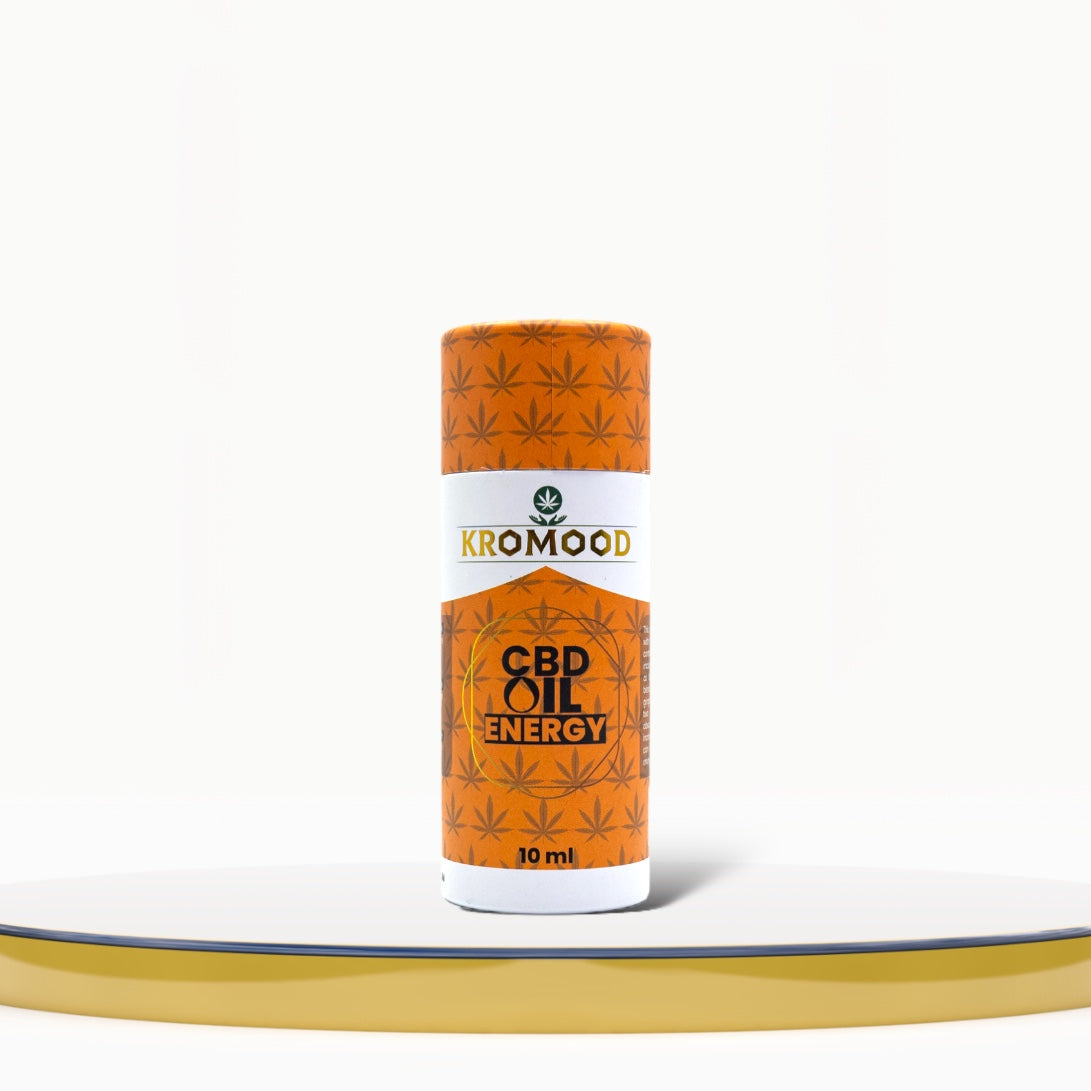 CBD oil - Energy - 10ml - 5% CBD / 5% CBG - Kromood

Livraison discrete en 24/48h partout en Europe

Expédiée depuis notre dépôt de Vilvoorde (Belgique)
Paiement 100% securisé
---
Discover KroMood CBD Energy Oil - Increase your Vitality and Well-being
Immerse yourself in a new dimension of vitality and well-being with CBD Energy Oil from KroMood. This premium creation from the prestigious Dutch brand, encapsulated in an exceptional 10 ml vial, skillfully fuses 5% CBD and 5% CBG to offer you an unrivaled revitalizing experience. It's an invitation to elevate your energy levels, improve your overall well-being, and reveal yourself in a more glowing and vibrant version of yourself.
The Revelation of Nature's Treasure of Well-being
At KroMood, their commitment is to create products that explore the potential of natural riches to care for the body and mind. CBD Energy Oil embodies this vision. Carefully formulated with premium ingredients, they took care to precisely select the components to guarantee a powerful and effective synergy.
Harmony between CBD and CBG
The basis of CBD Energy Oil lies in the harmony between two exceptional cannabinoids: CBD and CBG. Sourced from high-quality hemp, these compounds are known to promote balance within the body's endocannabinoid system. With 5% CBD and 5% CBG, the oil offers a symphony of beneficial wellness effects that can help regain vitality.
Terpene Elevation
To maximize the potency of this formula, they have carefully integrated terpenes extracted from Black Pepper and Ginger. These natural components not only add delicious scents to the oil, they also act as powerful catalysts for nutrient absorption. By promoting increased blood circulation, they pave the way for better assimilation of nutrients, thus potentially potentiating a surge in energy levels.
The Essence of Revitalization
Imagine starting your day with a feeling of renewed vitality. CBD Energy Oil aspires to provide just that. Whether you're preparing for a busy day of work, a challenging workout, or an afternoon of exploration, this oil could become your trusted companion to achieve your goals with gusto.
Use and Satisfaction
CBD Energy Oil is designed for ease of use. Thanks to the practical dropper, precisely dosing the oil becomes child's play. A few drops under the tongue are enough to savor the natural flavors while the oil dissolves. Feel the energy-boosting potential as the meticulously crafted blend begins to interact harmoniously with your body.
Their Journey to High Energy Begins Now
Integrate CBD Energy Oil into your daily routine and embark on a journey to unlock your potential. Invigorate your senses, enhance your well-being and welcome each day with renewed energy. Discover the excellence of Dutch craftsmanship, the power of cannabinoids and the elegance of natural synergy in every drop of CBD Energy Oil. Raise your energy, raise your mood - the KroMood way.
Information on KroMood Energy Oil :
Manufacturer : KroMood
Origin : Made in the Netherlands
Ingredients : Organic hemp, Caffeine, Ginger extract
Capacity : 10ml
Percentage of Cannabinoids : 5% CBD and 5% CBG
Synergy with Caffeine : This unique formula combines the benefits of CBD and CBG with the natural stimulation of caffeine, creating a synergy that can promote sustained, balanced energy
Potential Effects : Energy Oil may help increase energy levels while promoting mental clarity and focus, thanks to the presence of caffeine and the synergistic properties of cannabinoids
Ginger Extract : Enriched with ginger extract, this oil offers potential anti-inflammatory properties as well as possible improvement in blood circulation, thus contributing to optimal nutrient absorption
ORGANIC Hemp : Made from carefully cultivated organic hemp, this oil guarantees optimal purity and is free from synthetic pesticides and herbicides
Instructions for use : Use the dropper to easily measure the oil. Place a few drops under the tongue, wait a few moments for effective sublingual absorption, then swallow. You can also add it to drinks or foods for more discreet consumption
Overall Well-Being : In addition to its energizing potential, this oil may also support general well-being by interacting with the body's endocannabinoid system, which is involved in the regulation of many physiological processes
Superior Quality : The manufacturing of this oil is carried out according to rigorous standards to guarantee maximum quality and effectiveness
No Psychoactive Effects : In accordance with legislation, this oil contains negligible levels of THC, meaning it has no unwanted psychoactive effects