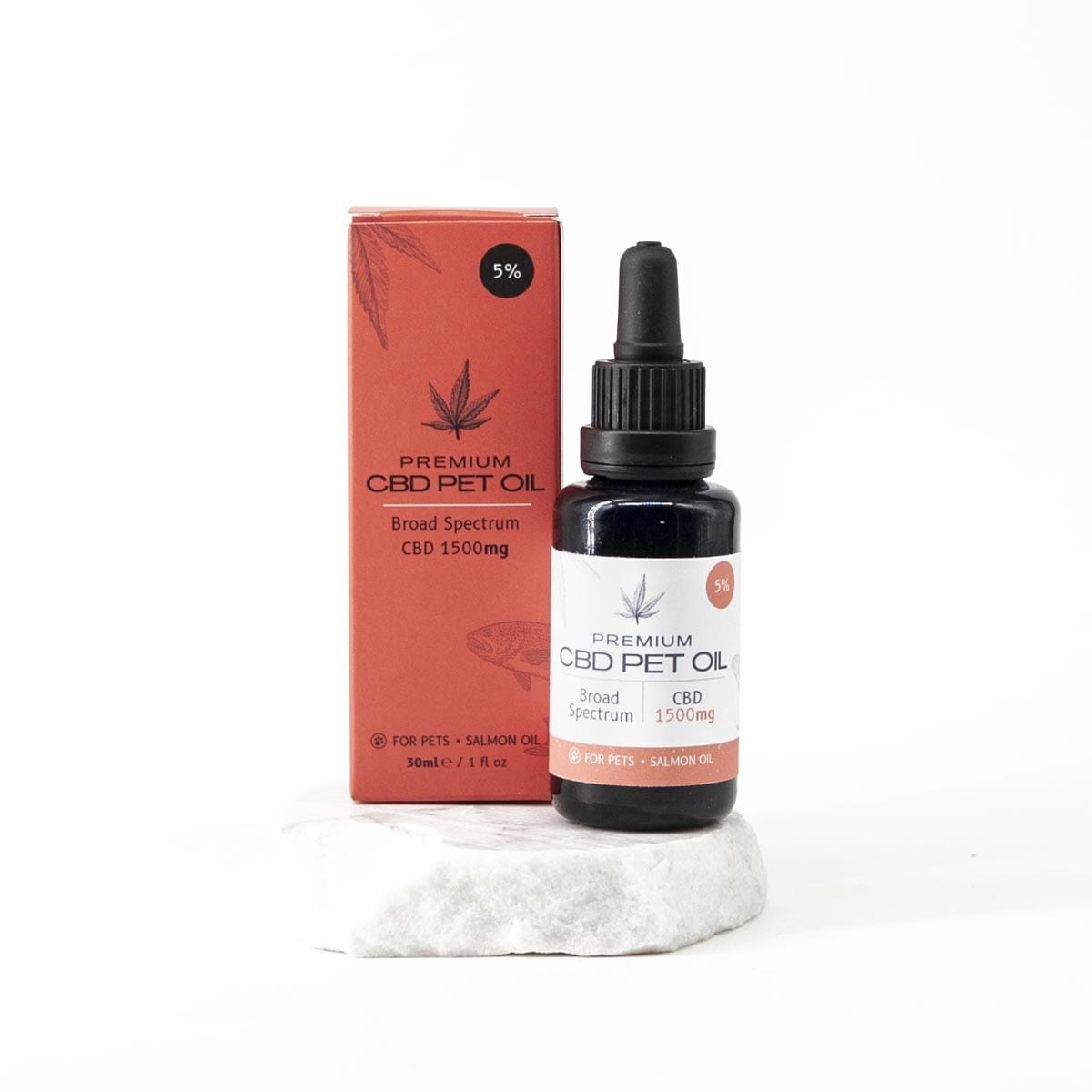 Animal CBD Oil 5% - Pure Extract CBD

Livraison discrete en 24/48h partout en Europe

Expédiée depuis notre dépôt de Vilvoorde (Belgique)
Paiement 100% securisé
---
Animals also go through difficult times. As with humans, animals can also benefit from the benefits of CBD oil. CBD oil for animals helps reduce stress in animals, soothe their feelings of discomfort. Whether it's a dog, a cat or any other animal, animal CBD oil can work.
Our CBD oil for pets is made from pure CBD extract, a powerful compound found in cannabis that has many benefits for our pets.
CBD oil for pets can help your pet feel more relaxed and comfortable. It can also help reduce anxiety and fear. Using CBD oil for pets can even help your pet deal with pain and inflammation.
Adding a few drops of 5% CBD Salmon Oil directly to your pet's mouth or food can help provide these benefits. The extraction of CBD is done by supercritical CO2 to ensure that the quality of the product is optimal and that it is pure. You will find in this oil many cannabinoids such as CBG, CBD, CBN and CBC.
Importance of CBD oil for animals
CBD oil is becoming increasingly important for animals, both as a therapeutic and preventive measure. CBD oil is known to have a wide range of human and animal health benefits, including: reducing inflammation, relieving pain, treating anxiety and other behavioral issues, and helping to treat a variety of medical conditions.
Many pet owners are already incorporating CBD oil into their pet's diet, thanks to its many therapeutic benefits. CBD oil is especially important for animals suffering from conditions such as autoimmune diseases, inflammatory bowel disease, seizures and cancer. In fact, many pet owners believe that CBD oil is even more beneficial for pets than for humans.
As CBD oil becomes more popular and mainstream, it will become even more important for pet owners to be aware of its importance. By using CBD oil as a preventative measure and as a therapeutic agent for conditions such as anxiety and seizures, pet owners are helping their pets enjoy long, healthy lives.
Benefits of CBD on animals
CBD oil offers many benefits for your pet. It helps in particular to:
strengthen your immune system;

reduce anxiety disorders;

help the animal's digestion;

reduce internal inflammation;

combat vascular hypertension;

promote palatability;

reduce various tremors and seizures.

etc
CBD oil is for animals is a food that can really help your animal. It can be used preventively or curatively. However, it is necessary to consider the advice for use and the instructions for administering the product to the animal. Thus, he will enjoy all the benefits of animal CBD oil.