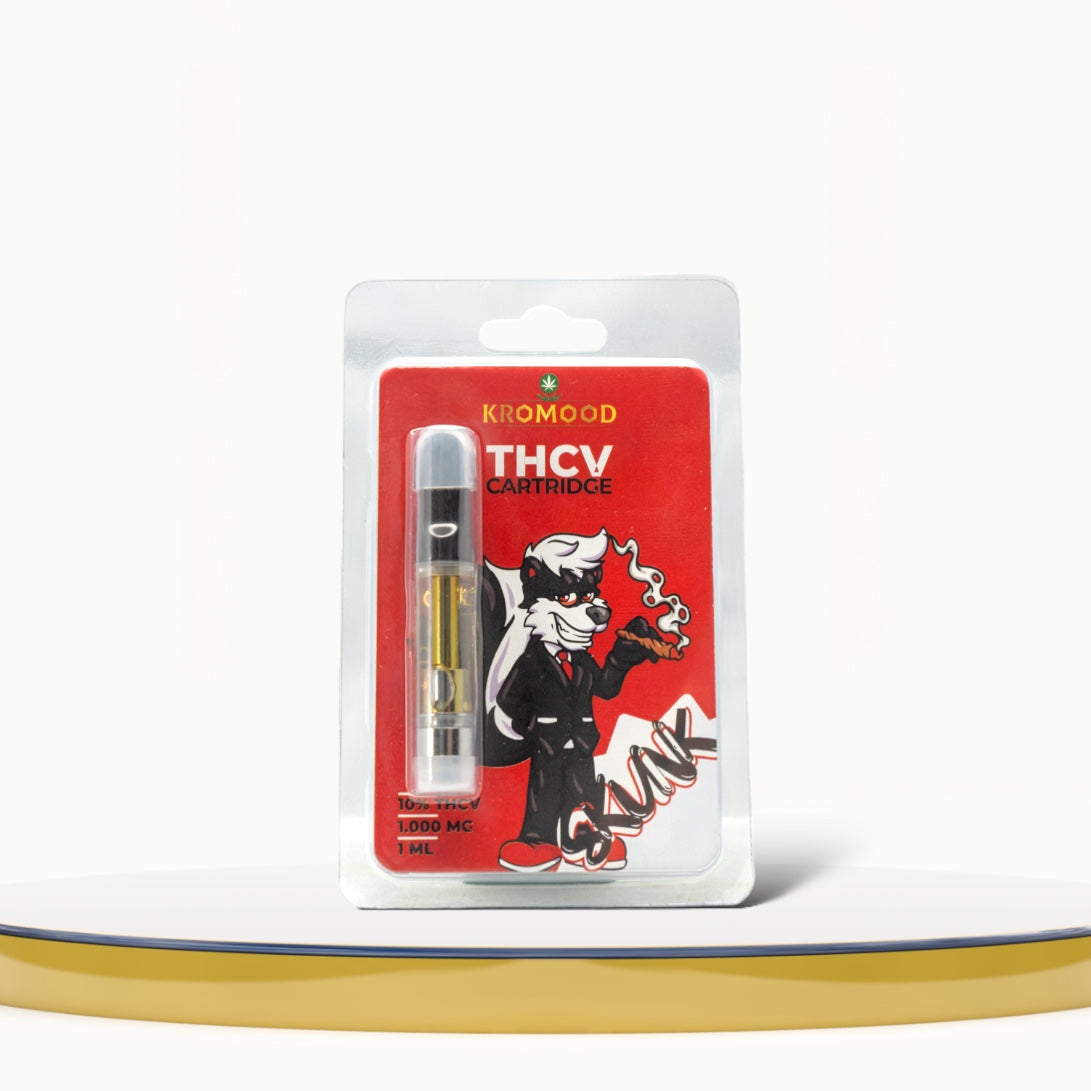 THCV Skunk Dab Pen Cartridge by KroMood - 10% THCV (1000MG) - 1ML - 600 Puffs

Livraison discrete en 24/48h partout en Europe

Expédiée depuis notre dépôt de Vilvoorde (Belgique)
Paiement 100% securisé
---
Welcome to the unique world of THCV Dab Pen cartridges by KroMood. We are excited to introduce the THCV Skunk Dab Pen Cartridge, an exceptional product that combines potency, flavor and quality. Explore an innovative way to enjoy the benefits of THCV with this exceptional cartridge.
Key information about the THCV Skunk Dab Pen Cartridge by KroMood:
Manufacturer : KroMood
Origin : Made in the Netherlands
Capacity : 1ml
Approximate number of puffs : Up to 600 puffs (equivalent to approximately 20 cigarettes)
Compatibility : Compatible with type 510 batteries, available in our store, in particular from the CCELL brand
Discovery of THCV:
THCV, or tetrahydrocannabivarin, is a lesser-known but promising cannabinoid. It has interesting properties and is studied for its potential in regulating appetite and metabolism. Although non-psychoactive, THCV offers a unique experience and may be an option for those looking to modulate their metabolism.
Characteristics of the THCV Skunk Dab Pen Cartridge:
THCV concentration : 10% (1000 MG)
Flavor : Skunk, a strain renowned for its pungent, earthy aromas
Benefits : Metabolism modulating effects, potentially useful for weight management
KroMood, Quality Guarantee:
KroMood, based in the Netherlands, is the proud manufacturer of this quality cartridge. The Netherlands, known for its expertise in the cannabis field, guarantees a high level of quality and authenticity in each product.
Use and Satisfaction:
This cartridge is designed for simple and practical use. Its integrated dropper allows precise dosing. A few drops under the tongue, savor the natural flavors as the oil dissolves. Immerse yourself in a unique vaping experience and discover the potential of THCV.
At Dr. Kush, we are committed to providing the highest quality products, painstakingly crafted from the finest extracts. Each cartridge embodies satisfaction, ensuring an authentic and rewarding experience. We are here to meet your expectations by offering you trustworthy and meticulously designed products.
Choose the THCV Skunk Dab Pen Cartridge by KroMood from Dr. Kush, and immerse yourself in an extraordinary vaping experience. Explore new dimensions of well-being and relaxation, and discover the potential of THCV. Join us on this adventure where every puff equals excellence and quality. Dr. Kush is here to bring you the best in the world of vaping.
DOES NOT CONTAIN THC