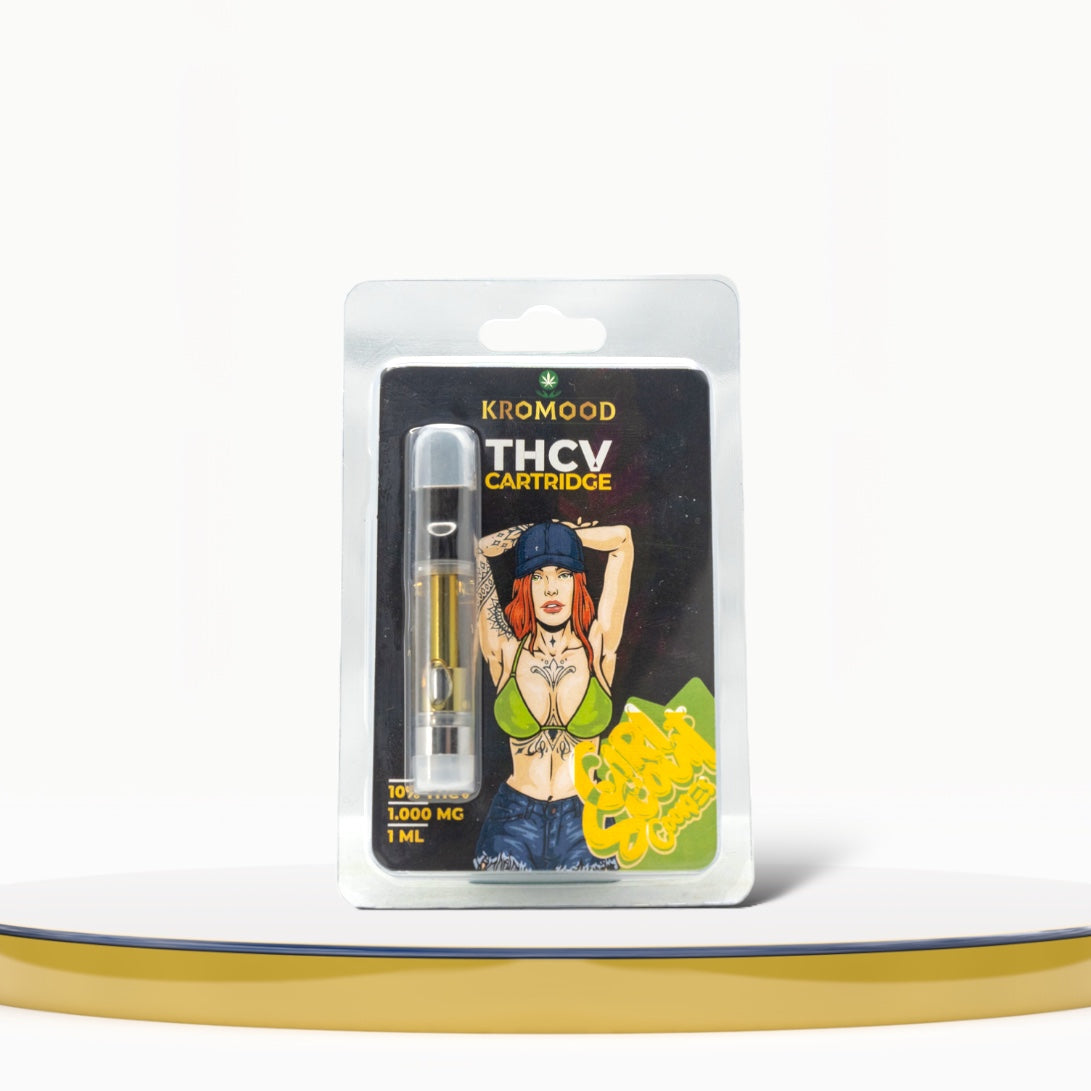 THCV Girl Scout Cookies Dab Pen Cartridge by KroMood - 10% THCV (1000MG) - 1ML - 600 Puffs

Livraison discrete en 24/48h partout en Europe

Expédiée depuis notre dépôt de Vilvoorde (Belgique)
Paiement 100% securisé
---
THCV Girl Scout Cookies Dab Pen Cartridge by KroMood - Discover the Exceptional
Immerse yourself in a unique vaping experience with the THCV Girl Scout Cookies Dab Pen Cartridge by KroMood. This revolutionary cartridge is an ode to quality and innovation, offering a remarkable concentration of 10% THCV, or 1000MG, in a 1ML format. Each cartridge reserves you up to 600 puffs of pleasure and relaxation, inviting you to explore a world of flavors and well-being.
THCV: The Cannabis Discovery
Tetrahydrocannabivarin (THCV) is a rare, promising, and little-known cannabinoid that is attracting growing interest in the vaping community. Its unique properties make it a captivating choice for those looking for a different experience. Enjoy this sensory journey, where the characteristic aromas of Girl Scout Cookies intertwine with the potential benefits of THCV.
Exceptional Quality, Assured Excellence
Made by KroMood, a brand that embodies excellence and commitment to quality, this cartridge is a testament to their dedication to bringing you the best. Each element is carefully selected and combined to give you an extraordinary vaping experience.
An Invitation to Well-Being
Let yourself be seduced by the sweetness of Girl Scout Cookies and the potentially unique benefits of THCV. Whether you are an experienced vaper or a beginner, this cartridge is an invitation to explore an unexplored dimension of the world of cannabinoids. Enjoy the exception with KroMood.
Embrace the Vaping Revolution
Join the vaping innovation movement with the THCV Girl Scout Cookies Dab Pen Cartridge by KroMood. Enjoy an exceptional experience, where quality, exquisite flavors and benefits meet in every puff. Dr. Kush is your destination for this vaping revolution. Experience excellence with KroMood and dive into the future of cannabis well-being.
Girl Scout Cookies THCV Dab Pen Cartridge by KroMood – Explore the Essential Details
Discover below the key information regarding the Girl Scout Cookies Dab Pen Cartridge with THCV by KroMood, a unique and promising vaping experience:
Manufacturer: KroMood
Origin: Made in the Netherlands
Ingredients: Organic hemp, THCV (tetrahydrocannabivarin), Girl Scout Cookies terpenes
Capacity: 1ML
Percentage of Cannabinoids: 10% THCV (1000MG)
Approximate puffs: Up to 600 puffs
Compatibility: Dab Pen, Type 510 battery
Battery Required: Dab Pen or 510 type battery
Instructions for use: Ready to use, easily attaches to a compatible battery, inhale gently to vape
Flavor: Characteristic flavor profile of Girl Scout Cookies
Storage: Store in a cool, dry place away from light
Quality: Free from synthetic pesticides and herbicides, manufactured to exacting standards
Without THC: In accordance with legislation, this cartridge does not contain THC
Immerse yourself in the exceptional experience of the Girl Scout Cookies Dab Pen Cartridge with THCV by KroMood, a product that embodies excellence, innovation and quality. Explore a new dimension of vaping and savor the unique synergy of THCV and terpenes in Girl Scout Cookies. Embark on a sensory adventure and discover the potential benefits of THCV in every puff. Choose KroMood for unmatched quality and an unforgettable vaping experience.
DOES NOT CONTAIN THC