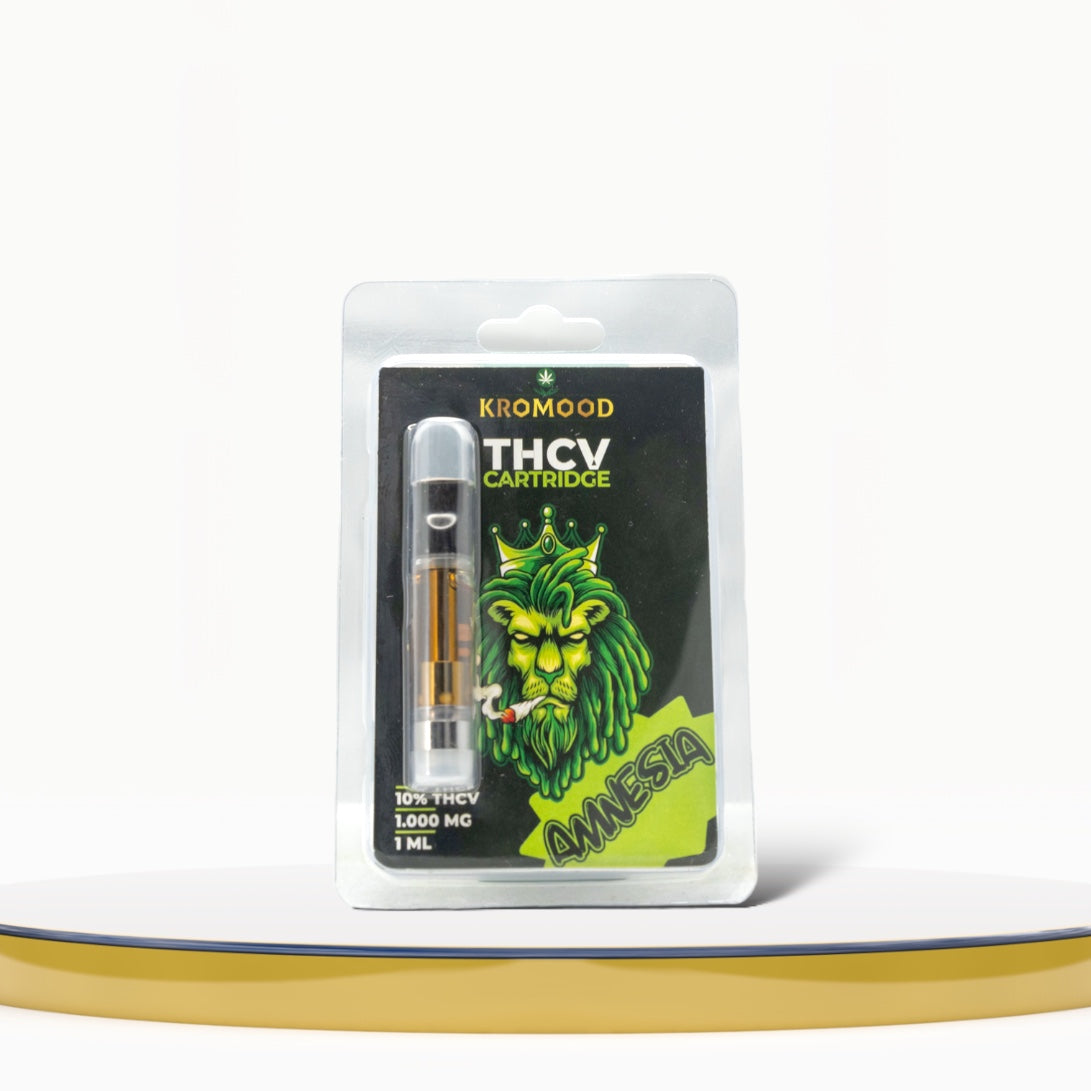 THCV Amnesia Dab Pen Cartridge by KroMood - 10% THCV (1000MG) - 1ML - 600 Puffs

Livraison discrete en 24/48h partout en Europe

Expédiée depuis notre dépôt de Vilvoorde (Belgique)
Paiement 100% securisé
---
THCV Amnesia Dab Pen Cartridge by KroMood: Awakening the Senses
Discover the fascinating world of THCV, this unique cannabinoid, through the THCV Amnesia Dab Pen Cartridge by KroMood. With an impressive concentration of 10% THCV (i.e. 1000MG), this cartridge offers a unique experience, revealing a whole new dimension of your sensations. Here is an overview of this exceptional product.
A Rare Cannabinoid: THCV, or tetrahydrocannabivarin, is an uncommon cannabinoid found in limited quantities in certain varieties of cannabis. With the THCV Amnesia Dab Pen Cartridge, KroMood offers you access to this unique compound.

Flavor Profile: Amnesia is a cannabis strain famous for its intense and intoxicating aromas. You can expect earthy, citrusy, and woody flavors combined with spicy undertones. The whole creates a complex and captivating taste experience.

Effects and Benefits: THCV is often associated with stimulating and energizing effects, providing mental clarity and increased focus. Additionally, it can act as a natural appetite suppressant, which can be beneficial for those looking to manage their appetite.

Versatile Use: The THCV Amnesia Dab Pen Cartridge is designed to be compatible with various vaporization devices, including dab pens and 510 type batteries. This ensures easy and versatile use.

Guaranteed Quality: KroMood, as a renowned manufacturer, assures you of exceptional quality with this cartridge. Precision manufactured to meet the highest industry standards.
Discover a unique sensory journey with the THCV Amnesia Dab Pen Cartridge by KroMood. Explore the subtle nuances of THCV and let yourself be seduced by the exquisite flavors of the Amnesia strain. It's much more than a simple vaporization cartridge, it's an open door to a new cannabis experience. Trust KroMood to provide you with quality products that transcend the ordinary.
Manufacturer : KroMood
Origin : Made in the Netherlands
Ingredients : Organic hemp, Amnesia extract (variety rich in THCV)
Capacity : 1 ml
Percentage of Cannabinoids : 10% THCV (i.e. 1000MG)
Flavor : Earthy, lemony, woody with spicy nuances characteristic of Amnesia
Compatibility : Dab pens, type 510 batteries (available in our store)
Approximate duration of use : Up to 600 puffs, equivalent to approximately 20 cigarettes
Quality : Meets strict industry standards and KroMood manufacturing requirements
Absence of THC : In accordance with the legislation, this cartridge does not contain THC, thus avoiding psychoactive effects.
Explore the world of THCV with the THCV Amnesia Dab Pen Cartridge by KroMood. Enjoy a unique experience and discover the unique benefits of this rare cannabinoid. Opt for KroMood for quality products that meet your expectations.
DOES NOT CONTAIN THC