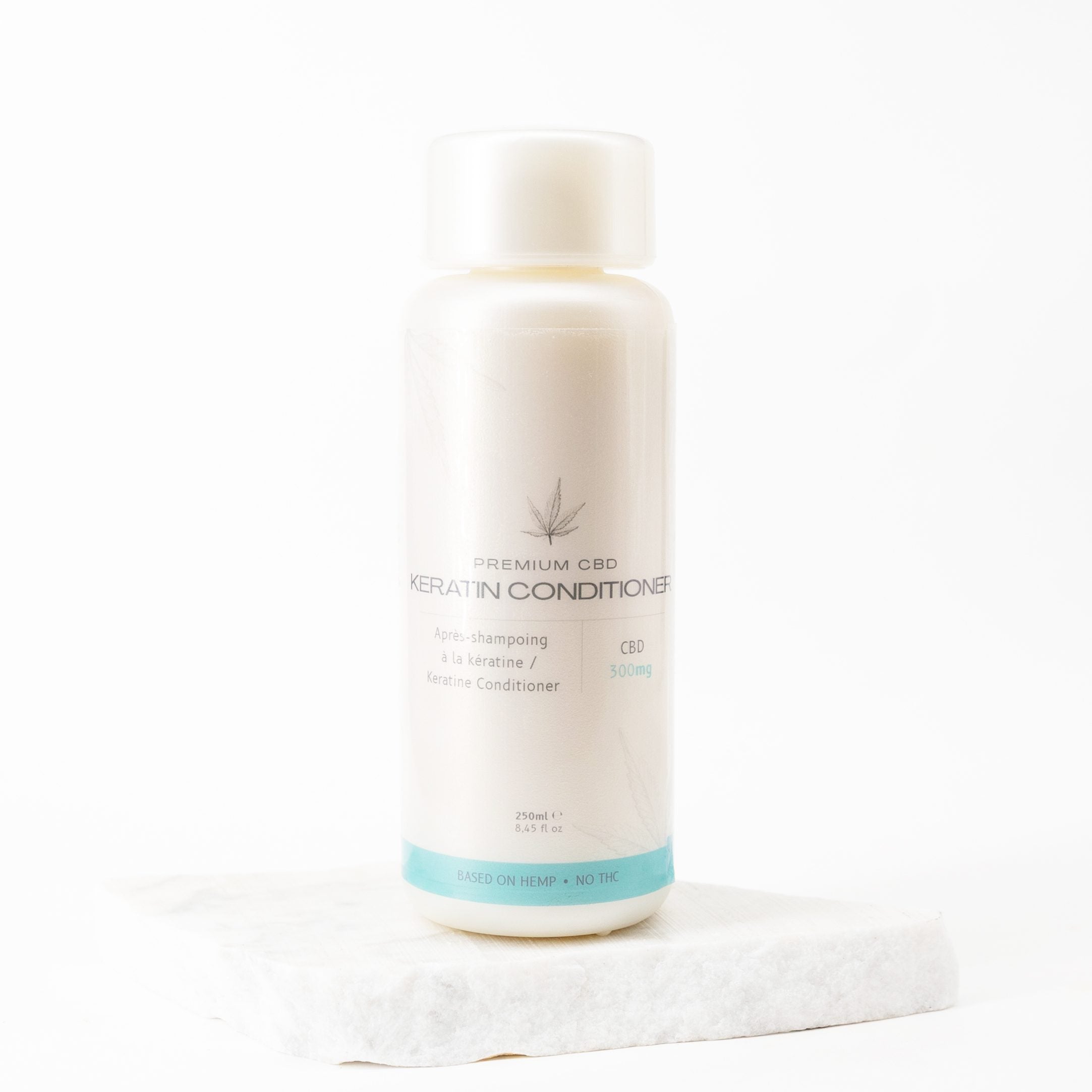 CBD Conditioner with Keratin (250ml) - Pure Extract CBD

Livraison discrete en 24/48h partout en Europe

Expédiée depuis notre dépôt de Vilvoorde (Belgique)
Paiement 100% securisé
---
Do you want to take care of your hair to keep it healthy? That's what CBD Keratin Conditioner helps you do. If you want to maintain healthy, odor-free and well-groomed hair, you should use CBD Keratin Conditioner from Pure Extract CBD.
This product helps you bring shine to your hair and keep your scalp healthy. With a clean scalp and hair, you promote rapid hair growth. So, the conditioner allows you to maintain your hair and allow it to grow as it should. No need for products to boost the growth of your hair. You have the whole solution with our CBD conditioner.
CBD Keratin Conditioner is also vitamin and keratin enriched. This helps nourish your hair shafts and scalp. You can use it daily and enjoy what it does for your hair. It brings a specific treatment to your locks.
If your goal is to have shiny clean hair all the time, use Pure Extract CBD Keratin & CBD Conditioner. Don't worry about hair conditioner side effects or incompatibility problem with your hair. The ingredients used for the manufacture of the product are organic. It does not contain any chemicals that can harm your hair and scalp.
If you have problems with hair loss, it's probably because of a lack of nutrients when maintaining them. The CBD conditioner regenerates your hair and deeply nourishes it. The ingredients of the shampoo create protection for your hair and thus fight against daily aggressions.
For the perfect hair routine, first use the CBD Keratin Shampoo for washing and then combine it with the CBD Keratin Conditioner. This is what you need to take care of your hair daily.
Composition of CBD Keratin Conditioner
The product is made from one of the compounds in hemp, CBD. It also contains keratin which allows to treat the locks in depth. In addition, the product contains panthenol which plays an important role in hair nutrition.
INCI composition
Aqua, Lauryl Alcohol, Cetrimonium Chloride, Cetyl Alcohol, Myristyl Alcohol, Amodimethicone, Panthenol, Disodium Edta, Ethyltrimonium Chloride, Trideceth10, Hydrolyzed Keratin, Propylene Glycol, Citric Acid, Edta, Phenoxyethanol, Methylparaben, Ethylparaben, Butylparaben, Propylparaben, sodium chloride potassium sorbate, sodium methylparaben, fragrance, Cannabidiol – derived from cannabis extract or tincture or resin
How to use
To use the CBD Keratin Conditioner, start by washing your hair with the CBD Keratin Shampoo. After washing your hair, apply an appropriate amount (depending on your hair length) to the lengths. Then, massage gently, gently detangle if necessary and leave on for 3 or 4 minutes before rinsing the hair thoroughly with lukewarm water. Be sure to use plenty of water to thoroughly cleanse your hair.