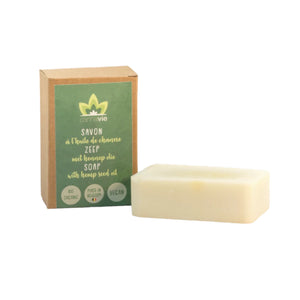 Hemp oil soap - Cannavie
€600

€6,00
Tax included.
Shipping
calculated at checkout.
---

Livraison discrete en 24/48h partout en Europe

Expédiée depuis notre dépôt de Vilvoorde (Belgique)
Paiement 100% securisé
---
Do you like to take care of your skin? Do you want to have a radiant complexion and a properly cared for body? Hemp oil soap is the solution. This ultra-mild soap made with hemp oil and 100% natural ingredients is the best skincare product you need. This soap does not contain perfume or essential oil. It is perfect for your face and for maintaining glowing, beautiful skin.
Composed of extra-virgin olive oil, shea butter, coconut butter and unsaponified hemp oil, the soap will make you radiant and provide you with superior well-being. Taking daily baths with Dr. Kush's cannavie hemp oil soap helps you avoid skin infections and bad body odor.
By opting for the soap made with CBD oil, you also benefit from the various advantages that this product provides. CBD brings you many benefits. Well preserved in its rectangular cardboard box, the hemp-cannavi oil soap gives you a fresh bath and is perfumed with the terpenes of cannabis.
What to know about the CBD (cannabis) at the origin of the soap?
Cannabidiol (CBD) is a molecule naturally produced by cannabis. It is one of the main active ingredients found in this product, and it is present in a number of cannabis strains. It is usually extracted from the flowers, leaves, and stems of plants, and it can also be isolated from other sources.
CBD is known for its anti-inflammatory, anti-anxiety, and antioxidant properties. It has also been shown to reduce pain and benefit the immune system. Additionally, some studies have suggested that CBD may have beneficial effects on mental and physical health, including reducing stress and anxiety.
CBD is available in various forms, including liquid, capsules, chewing gum, and oil. There are also products containing CBD that can be applied directly to the skin. They are used to relieve the symptoms of certain diseases or to improve overall health and well-being.
Although CBD is considered one of the most powerful active components of cannabis, it does not cause psychotropic or psychoactive effects. This means that it does not have the same effects as marijuana, which is known for its euphoric effects.
The CBD products marketed by Dr. Kush come from highly selected farmers. These produce organic CBD. This organic CBD is used for the manufacture of the various products marketed by Dr. Kush. Cannabis oil soap is therefore an organic product that does not produce any side effects. Its use has only the main purpose of bringing you bodily health. Using this soap frequently can allow you to have beautiful skin and feel daily well-being.
Its use is simple. Like other soaps, you must use it when you take your bath. The foam of the soap allows the maintenance of your skin.


---
We Also Recommend